Council At-Large
---
Resume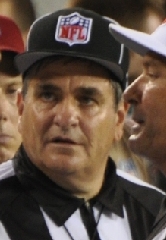 Education
Our Lady of Good Counsel High School, Wheaton, MD 1978
University of Maryland, College Park – Bachelor of Arts, Law Enforcement, 1982
Howard University School of Law, Washington, DC – Juris Doctor, 1985
Bar Admissions
Maryland, June, 1987
United States District Court (District of Maryland), January, 1990
Professional Employment
ATTORNEY, Bay and Falcinelli, Rockville Maryland (June 1987 – present)
Managing Partner; practice focuses on  Construction Litigation, Administrative Law, Contract Law, and Workers' Compensation; also serve as an Arbitrator on Labor Cases.
SERGEANT, Montgomery County, Maryland Police (September 1985 – 2015)
Served in a wide variety of assignments and police districts, to including assignments as an instructor at the Public Service Training Academy – In Service Training Section, instructing police veterans in current criminal law, procedures, and departmental policies; Special Assignment Team, a plainclothes unit responsible for the detection and interception of street level crime as it occurs; and Uniformed Patrol.
DIRECTOR OF OFFICIALS, American Indoor Football Association (Professional Arena Football) (2007 until league folded after conclusion of the 2010 season)
Responsible for the recruitment, training and retention of over 140 football officials across the USA; Chairman of the AIFA Standards Committee which implemented and/or enforced the league Code of Conduct as related to player behavior, as well as enforced administrative rules among team ownership; co-authored the League's Rule Book.
DIRECTOR OF OFFICIALS, Indoor Football League (Professional Arena Football)  (2012 – present)
Oversee all aspects of IFL officiating such as rosters, scheduling, travel, training and evaluation of league officials;  Liaison between the coaches and the league regarding all rule interpretations; Maintain communication with coaches regarding rules interpretations; Maintain communication with general managers regarding game day administration; Produce weekly training videos throughout the season; Developed league mechanics and authored the IFL Mechanics Manual; Partner with the National Football League (NFL) to assist in reviewing game film and mentoring of officials.
Other Relevant Professional Experience
– Possess extensive experience and knowledge of Administrative, Labor and Legal principles  related to Montgomery County Personnel Regulations and Police Department Rules, Labor Contracts, Office of Internal Affairs procedures, and the Maryland Law Enforcement Officers Bill of Rights (LEOBR);
-Graduate of the International Association of Chiefs of Police Leadership in Police Organizations Institute;  a leadership development training program based upon a behavioral science approach to leading people, groups, change and organizations. The original course material was developed and taught for many years at the U.S. Military Academy at West Point. Through years of research and development, the curriculum was specifically tailored to meet the challenges and needs of the law enforcement community;
-Served as an Arbitrator on over fifty Police Administrative Hearing Boards and Police Disability Retirement Appeals Boards;
-Serves as Security Consultant at PGA Golf Tournaments (Kemper Opens and AT&T National Golf Tournaments) staged annually at TPC Avenel and Congressional Country Club, Potomac Maryland.
Personal
57 years old; married to Kathleen Bay; two children, Kristen (21) enrolled at University of New England where she is a double major in Marine Science and Bio-Physics as well as the Captain of the UNE volleyball team; and Jessica (19) enrolled at Embry-Riddle University where she majors in Aeronautical Science and a member of the Embry-Riddle volleyball team; Retired NFL/NCAA/Arena/High School Football Official – (30 years);
---

Q&A
Find out what the County Council Candidates Think About the 9% Property Tax Hike »
Q: Describe yourself on the political spectrum (i.e., fiscal conservative/social liberal, libertarian, social moderate/fiscal liberal).
A: I won't be pigeonholed into a spectrum; will govern by DO THE RIGHT THING which is the manner I policed the streets of MoCo for 30 years.
Q: What is the biggest challenge facing Montgomery County today?
A: The rising violent crime & gang violence occurring in this county. This is not the MoCo in which I was raised & it must change.
Q: What is the one thing – project or program – that you want to achieve?
A: Eliminate the traffic camera program which is a boondoggle benefitting the camera vendors while lining the pocket of Uncle Montgomery.
Q: How will you pay for your project/program?
A: No cost. Introduce a law to ban cams. As a cop for 30 years believe me they serve no purpose but to raise revenue for MoCo, another tax.
---