MoCo is Not Investing Enough in Public Schools
The Facts
There are two major funding sources for Montgomery County Public Schools: local dollars from the county and state aid. The county pays for many other functions including police, fire and rescue, corrections, IT, libraries, recreation, parks, Montgomery College, debt service and more. Between Fiscal Year 2010, the peak budget year before the Great Recession, and Fiscal Year 2018, the total county budget grew by 25%. MCPS funding grew by 13%. Of that amount, non-local funding for MCPS (mostly state aid) rose by 33% while local dollars for MCPS grew by 6%. Meanwhile, MCPS enrollment rose by 15% over this period. MCPS had one of the slowest-growing budgets of any department or agency in county government.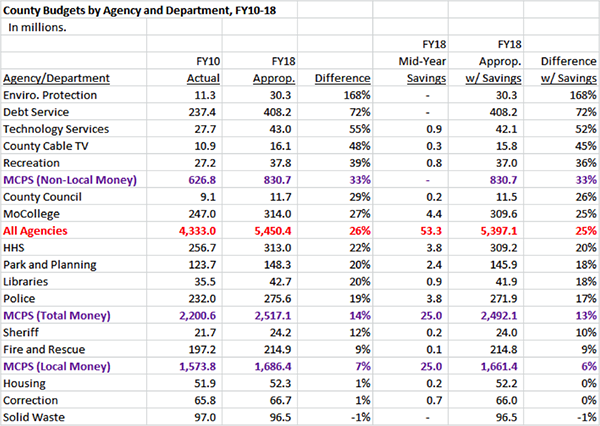 ---
Our View
The public schools are one of our county's greatest assets but our county government has chosen to distribute local tax dollars to other activities instead. The schools need more investment or they will decline.
---
What Do You Think?
We want to know what you think about Montgomery County's investment in public schools. Click here to share your comments with us.
---